Training manuals have been a part of our human history since recorded time. From the Greek Handbook of Epictetus all the way to contemporary medical training. Your internal knowledge for onboarding new people needs to be clear, concise, and centrally located.
Manuals have a wide range and need to be versatile while maintaining accuracy. Training can be both expensive and difficult to maintain. Examples of manuals that stretch across many different industries are:
University/School Teacher Manual
Volunteer and Mentor Training
Disaster Response
Industrial Quality Manuals
Food Prep Standards
The scope of getting into manuals might feel a little intimidating. So it's usually a good idea to sketch out a simple outline. I went ahead and digitized my notes as seen here: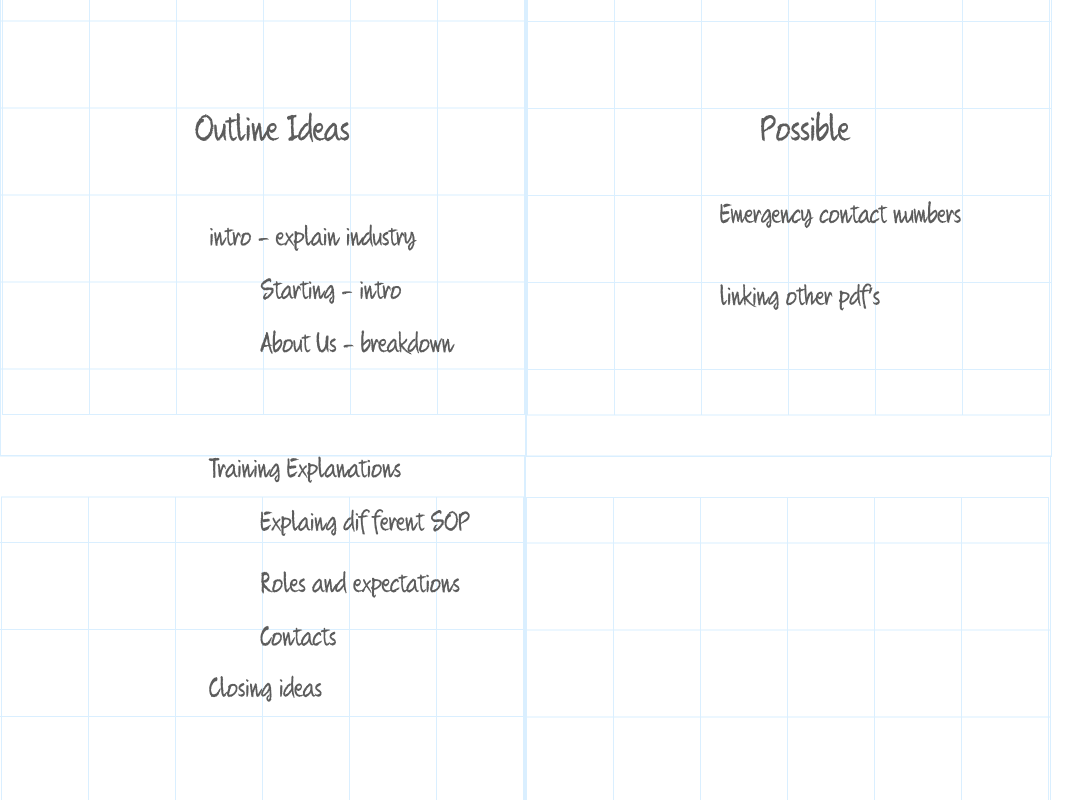 While using TeamFlow, I found it offers a unique solution to writing training manuals. For many, the task can be daunting. You need to express your ideas with clarity for them to be the most effective. Writing out thousands of lines can be time consuming. Hiring an outside technical writing firm can be pricey.
This helped me visualize the process and take out the guesswork of training. I was able to create, share, and update my training documents after only a few clicks. My goal is to keep my team informed and always up-to-date.
Below we're going to look at a broad example of writing a training manual. For your organization you will input your own data unique to your team. But for now I wanted to show how I built mine.
Here we see the swimlanes and start of a base diagram. This represents the process of creating a training manual. First we added in four swimlanes (by clicking "Add Swimlane") to help regulate the process and see who is doing what and when in the process.
We start off with breaking the nodes into tasks and meetings. We'll need to get a good idea from the top down what the manual will contain. We also need to know how it is going to break up by different swimlanes.
The Manager of the organization has the most tasks. This is because they're the ones with the proper knowledge to create the training manual.
When creating a manual it might seem like more is better. In reality, clarity is going to be your main goal. A simple and readable layout makes this process much less intimidating and easy to map out.
We also populated descriptions with useful ideas and comments for others on the team to read. We also see extra information to help everyone get on the same page.
I am also able to link other TeamFlow diagrams and external files and links. This can help you create your manual by having a single location for all your files, ideas, and content.
Near the end of the diagram there's a decision node that asks if anything else is relevant to the training manual. We'll use this as a catch all in case we forgot anything. Next we'll go and place in a meeting node. This means we can discuss this with other people on the team so they are aware of the updates and the new manual. Finally we output to a single report node. This represents our completed training manual.
NOTE: Click and drag to scroll in the diagram. You can also click the center of the nodes to see more details.
If you have any suggestions or feedback on this article, please drop us a line. As always, thank you for reading and we hope you check back soon for more helpful guides on compliance and other industry topics. To get notifications on when we post our next article, please follow us on Twitter and LinkedIn.